Sash Window Repairs
Sash windows
We offer a full sash window renovation package throughout Hampshire, Berkshire, Surrey, Wiltshire and London this includes:
upgrade the locking system
install draught proofing
overhaul the weights
repair any damaged or defective timber
replace any damaged glass or upgrade the glazing
renew defective putty
ull redecoration service
align the sashes
servicing or replacement of the ironmongery
renew the sash cord or chain
Sash Window Refurbishment
Sash windows are a traditional part of our English heritage and we need to do as much as possible to ensure this continues. With the more continued use of UPVC the sash window is becoming rarer and qualified tradesman able to refurbish sash windows or make sash windows are few and far between.
As traditional carpenters and joiners, we are qualified to carry out sash window renovations. Our sash window repairers and carpenters are fully qualified to either City & Guilds or NVQ in carpentry and joinery.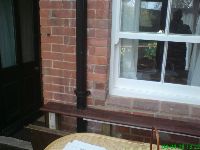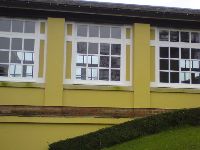 Damaged sash windows
We can replace damaged sash window sills by cutting and chiselling the rotten part of the sill and manufacturing a new sill to the same profile and refit. Our carpenters can make the sills out of mahogany, teak, oak, softwood or whatever type of timber you have we will match.
Our carpenters normally do not have to take the window or sashes away from site to carry out the maintenance needed to bring back to working order. Generally most decay takes part in the bottom rails of the sash windows which can be replaced traditionally with mortise and tenon timber joints.
Common sash window problems
Broken sash cords - Some of the most common sash window call outs we have are broken sash cords. This is a relatively simple procedure to replace as we replace the old sash cord with a new long life sash cord.
Broken sash chains - Some sash windows have chains to hold the sash window weights these are rarer than the cord normally because they are more expensive.
Sash Window Draught Prevention
Sash windows are renowned for draughts and rattling sashes. With modern techniques this is now overcome by the use of a draught strip either fitted within the sashes or by using new stop beads or parting beads.
At the sill point where the bottom sash meets, we can router out a strip to prevent water egress and draughts.
The use of this draught stripping eliminates
reduction heat loss (saves money)
noise reduction
prevents the sashes rattling
helps the sash move freely due less friction
reduces dust egress
Quality Sash Window Repairs
Whatever work we carry out no bare timber will be left if the windows are painted we will always prime the timber so to prevent moisture egress. There are two types of primer used on wood; traditional primer or on hardwood the use of an aluminium primer is required.
As well as window restoration we also refurbish all types of windows and doors as well as matching any joinery patterns to make good defective areas.
We can provide scaffold to achieve access to higher window levels and we offer a full decoration service too.